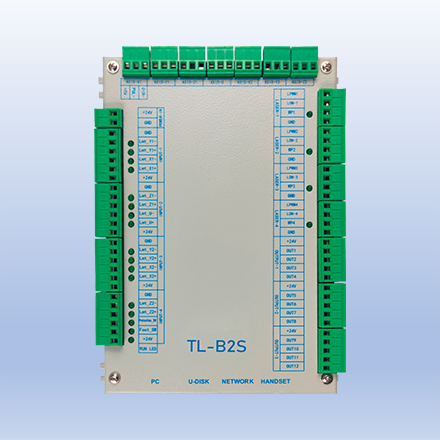 TL-B2S
TL-B2S is a high-end motion control system developed for double-head asynchronous cutting machine. It is suitable for large cutting machines.support panoramic camera with asynchronous double head cutting.support asynchronous double-head + mutual movement function (4 heads processing). The product features rich, the interface appearance is new design, with better anti-interference ability, fast speed and high precision.
Description
Specifications
● Power supply of DC24V/2A
● 32-bit high-performance floating point embedded ARM+FPGA architecture, 128M Flash, 32M RAM, 12 general outputs, 20 general inputs, TTL electrical level
● Equipped with 4.3", 480×272 LCD
● Support 7 axes motion control (X1, Y1 asynchronous cutting head 1 , X2, Y2 asynchronous cutting head 2, Z1, and Z2, used for rotary cutter lift or synchronous double-head movement (double-head mutual movement model) , U is feeding axis or lift axis; Motor shaft pulse frequency can be as high as 1MHZ
● Support 4 lasers' control, TTL electrical level, adjustable output voltage of laser control: 0~5V, adjustable PWM output: 1K~100K, adjustable duty cycle: 0~100%
● Support USB2.0 interface, support computer USB communication, support U disk to read and write files;
● Support 100Mbps network transmission rate
● Support Y axis or X axis asynchronous cutting models; support double-head mutual movement + double beam asynchronous model (4 heads), support asynchronous cutting; support asynchronous double-head dislocation compensation
● Support rotary cutter cutting function; with rotation height compensation
● Support automatic blowing, automatic focusing, foot switch, cover protect, processing statistics, etc., in the run of equipment, the power-off cutting restoration ensures the flexible settings of large file processing
● Support the languages of Chinese (simplified), English, Traditional Chinese, Korean, Russian, Italian, Spanish, Portuguese, Vietnamese and etc.
Product acessories:
1.TL-B2S controller
2.TL-B2S panel
3.Square port USB cable* 1, PC extension cable * 1, U disk extension cable * 1, crossover network cable * 1, network extension cable * 1, panel communication cable * 1
4.Stamping parts (sets) * 1

Size:
Controller: 182.0mm*147.4mm
Panel: 182.0mm*120.0mmmm (front), 145.5mm*100.8mm (rear)