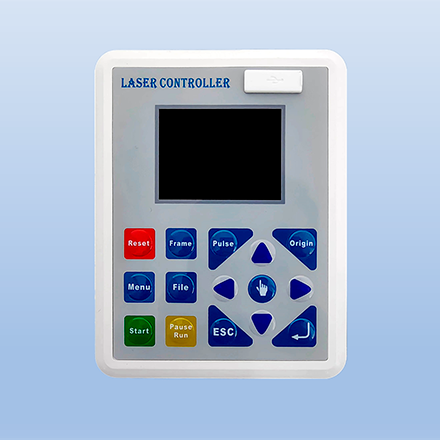 TL-A1
The TL-A1 is a motion control system for small laser engraving and cutting machines, it is based on a 2.4-inch color screen design and has a more optimized space design. Supports 3-axis motion control and 1 laser control, equipped with laser engraving and cutting software AutoLaser, supports CorelDraw, AutoCAD, Illustrator export menu, supports custom development.
Description
Specifications
● Power supply of DC24V/2A
● Use high-performance 32-Bit floating point ARM, 128M Flash, 512K RAM, 2 general outputs, 9 general inputs, TTL electrical level
● Equipped with 2.4", 320×240 LCD
● Support WiFi communication, support AP and STATION mode
● Support 3 axes motor control (X, Y axis used for horizontal motion, Z axis used for rotary cutter lift or synchronous double-head movement (double-head bidirectional movement model) , U axis for feeding or platform lift, Z/U axis is multiplexed port, motor shaft pulse frequency can be as high as 166KHz
● Adopt 7-segment S-shape acceleration and deceleration and adaptive speed planning algorithm, and support speed parameter setting and small circle speed limit with one button, different cutting parameters available for different graphics, support backlash compensation
● Support 1 laser control, TTL electrical level, adjustable output voltage of laser control: 0~5V, adjustable PWM output: 1K~100K, adjustable duty cycle: 0~100%
● Support USB2.0 interface, support USB communication to computer, support reading and writing of U disk
● Support real-time clock, machine lock
● Support rotary cutting, marked-positioning cutting, rotating cutting height compensation, pressure feeding roller control
● Support track preview, continuous engraving after power off, real-time correction of power light intensity and speed during work, rotary engraving, switching of 2 platforms, split feeding, pressure feeding, automatic blowing, auto focus, foot switch, safety protection, upgrade, processing statistical information and other functions
● Support the languages of Chinese (simplified), English, Traditional Chinese, Korean, Russian, Italian, Spanish, Portuguese, Vietnamese and etc.

Product acessories:
1.TL-A1 controller
2.Square port USB cable* 1, PC extension cable * 1
3.Stamping parts (sets) * 1

size:
100.0mm*130.0mm (front), 89.3mm*116.5mm(rear)